If you are a law student – at either bachelor or master level – you will be given a unique opportunity to become part of our firm and thereby get to know us and our values. Choosing one of the practice areas in our firm that you are most passionate about, you will learn about life as an attorney and be able to test your theoretical skills in practice.
Typically, you work 15 hours a week, and some choose to work more, if needed. However, we fully respect if law school is your first priority and support you in this decision.
Your employment with us may be considered a training programme, where complexity increases naturally over time in step with you acquiring knowledge and competences which will lead to more and more challenging tasks. Our investment in you is significant, and we therefore expect you to be striving to achieve independence when solving your own tasks.
A personal mentor will guide you and ensure that you are assigned a variety of tasks giving you different learning experiences. In addition, your mentor will make sure that you become an integral part of our firm. We want your encounter with Skau Reipurth to be both professionally rewarding and fun.
Who can apply?
Feel free to send us a solicited or unsolicited application if you have completed at least two years of law school. Although we value academic excellence, we are looking for cultivated candidates who bring more than legal skills to the team. Therefore, we attach importance not only to your grades but just as much to your personality
How do you apply?
We receive applications all year round and interview candidates on an ongoing basis. All vacancies are posted here on the website, and unsolicited applications are also welcome.
Even as students, we are assigned responsibility, and the difficulty of the tasks increases in line with our seniority, ensuring that, during our time of study, we become well-equipped to occupy the role of assistant attorney. We learn in a safe environment with the firm's attorneys and partners acting as valuable sounding boards.
AMANDA HAUGE MADSEN
Assistant Attorney (former Legal Intern)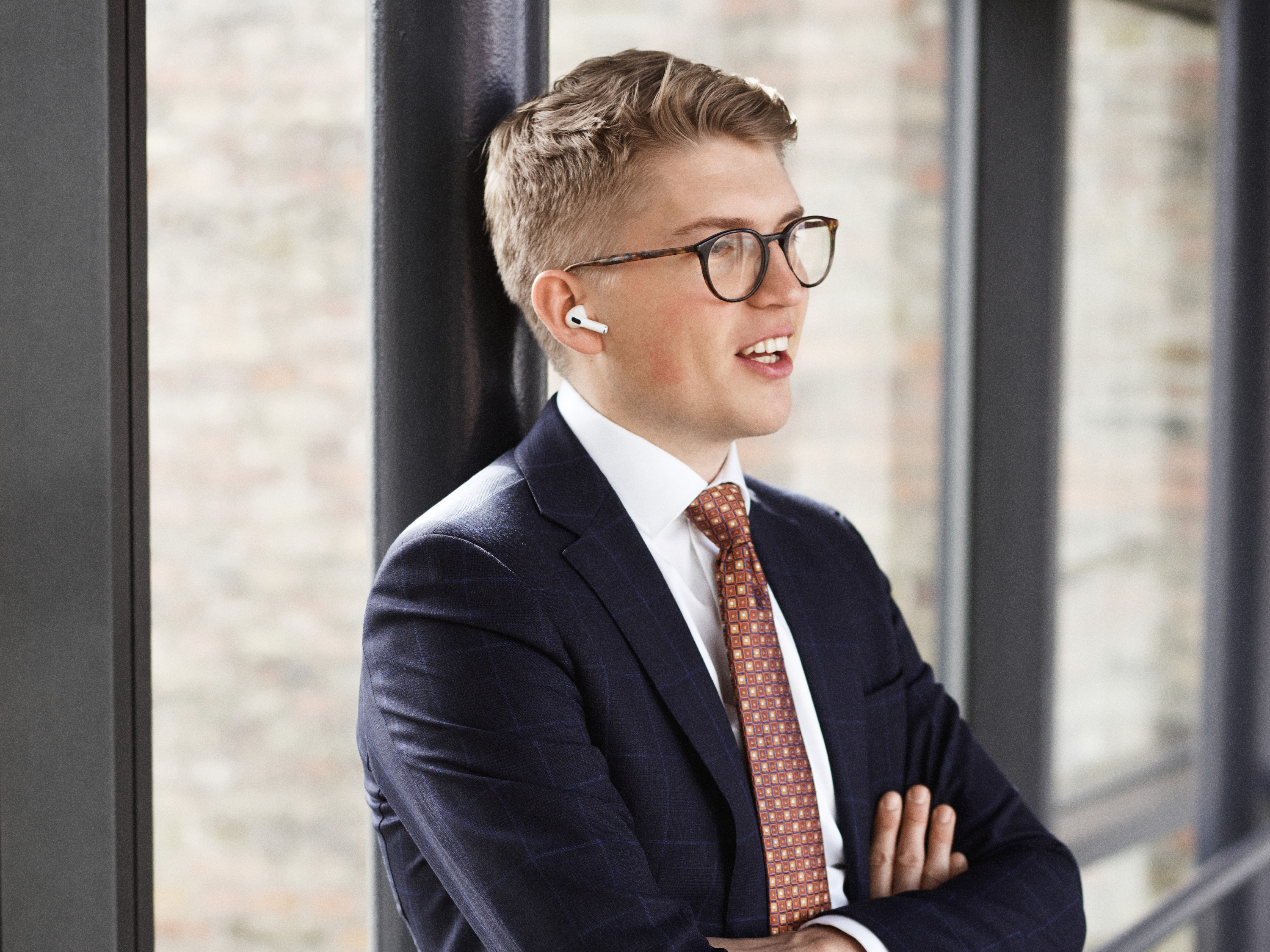 I particularly appreciate the social culture at Skau Reipurth. It can be anything from events with the other students and assistant attorneys to the spontaneous Friday afternoon get-togethers on the office's roof terrace. In this workplace, your colleagues are so much more than just colleagues.
CHRISTIAN SCHNEIDER
Former Legal Intern
Start your application process by reading about Skau Reipurth.
We hope you will take inspiration from our description, in words and photos, of who we are. If you are unsure where to begin, you can get an overview of our firm by exploring our site and meeting some of us to see what we look like. Take a look at our areas of expertise to discover where you can contribute best to the team and reach your full potential, and learn about our approach to social responsibility.
Match your competencies and interests with the position you are interested in. All positions are posted here.
Can't find the right position? Be patient. We regularly publish new vacancies. Stay up-to-date by following us on LinkedIn; you will be notified when a new position comes along that suits your experience and interests.
Initially, your application will be received and assessed by a member of our HR department and subsequently a practice area partner.
We look forward to receiving your qualifications, any recommendations and a brief motivated application, allowing us to get to know you a little and hear your motivation for submitting a solicited or unsolicited application to us. We put special emphasis on your curriculum vitae, and you may be inspired by these five tips for how to structure a CV:
Tip 1: Begin your CV with a brief personal description of yourself and your career
We recommend that you start your CV with a brief description of yourself and your career. Not too personal and not too private. Your personality may well determine whether you are ultimately offered a position with us, but that is not relevant at this time. If you do not possess the skills and competencies we seek, your personality will not come into play at all. Instead, we would like to read a short description of your profile, sharing:
who you are
what you can do
what you want, and
why you see yourself working at Skau Reipurth
The side benefit is that it is a fairly good exercise for you to consider these questions.
Tip 2: Adjust your CV to the position you are applying for, demonstrating the connections
This step is really important! Do not attempt to make a generic CV. Instead, try to match your skills, previous employments (even if you are a student) and other experience emphasised in your CV with us as a firm and the position you are applying for. You will have an edge if there is a clear common thread from your CV experience to the job advertisement.
Tip 3: Make it chronological
Your CV should – probably not surprisingly – have a chronological structure, in reverse order, that is, so that your most recent employment, education, etc. are listed at the top. Explain any gaps in the chronology.
Tip 4: Not too long – and not too short
A page may be too short. Ten pages are too long. Your CV should be exhaustive and relevant, but it should not be an essay. Remember that our first screening of candidates is based on the CVs. It must, of course, give us a proper impression of you; on the other hand, it should also be possible for us to get through it. Of course, it, moreover, depends on how long a career you have had. As a starting point, you should include everything, but remember to concentrate on the points relevant to the position in question and us.
Tip 5: Provide a clear and proper structure
Once you have the contents in place, take a critical look at the structure. Use line breaks (rather too many than too few). Use paragraphs. Use bullets. Make sure that there is space between the text lines and do not include several pages of closely written text. Proofread the text or ask someone else to do it.
The point is to bring yourself into play for a job with us, and the better you are at highlighting the skills and experience that are relevant, the greater the chance that you will be invited to a personal interview. If you follow the five tips above, you are well on your way to achieve this.
If we invite you to a personal interview, you will typically meet a member of our HR department and a practice area partner.
A personal interview gives us a chance to hear more about your achievements, sense who you are as a person and understand your motivation and passion for working at Skau Reipurth.
Prepare for the interview
It is always a good idea to familiarise yourself with our firm and culture. But the interview is first and foremost about getting to know you. To prepare for the interview, you are recommended to consider the following:

Focus on the skills we are looking for
Prepare to provide specific examples of situations from work or other relevant contexts where you have demonstrated these competencies
Be prepared to describe the situation, the task you faced, what you did, and the results you achieved
We also encourage you to prepare some questions for us
The interview will enable you to get to know us, sense the atmosphere of our historic premises at Frederiksstaden in the heart of Copenhagen, and to ask all the questions you may have about the position, our culture or practicalities.

If both parties are motivated to meet again and get to know each other even better, you will be invited to complete an online personal profile and cognitive test. This will allow us to determine your strengths and the areas where you would benefit from our support. You will of course receive personal feedback from HR and be given the opportunity to comment and provide further input. Findings from this interview will be included in the final round.
Here you will typically meet another partner in the department, a colleague and HR. Together, we will look at the findings made in relation to your personal profile and the cognitive test. You may be asked to prepare a few case questions, but if so, you will be informed about it in advance.
Congratulations! You are now part of the team – and we will do our best to make you feel welcome straight away.
Your onboarding starts even before your first day at work, and you will be given all the information you need to succeed. We have planned a number of introductory activities where you meet your new colleagues and gain in-depth knowledge of our firm, procedures and culture.