Through Skau Reipurth's Next Generation Award we acknowledge young and dedicated persons who early in their career have excelled in their area of expertise and who have created remarkable results in an early age because of their high professional standards, willpower and level of ambition.
Skau Reipurth's Next Generation Award is given to persons across industries – e.g. to a person, a team or an association. The criterion is that the award recipient is in the beginning of his og hers career and reflects professional standards, dedication and results. Always.
Below, you will find the persons who have been given the award.
Elisabeth Holmegaard Nielsen (2022)
In 2022, Elisabeth Holmegaard Nielsen has been given Skau Reipurth's Next Generation Award (DKK 25,000) as an acknowledgement of her great musical talent, hard work and passion for playing the piano.
On Friday 25 November 2022 Elisabeth was presented with the Next Generation Award at PH Pianos in Bredgade in Copenhagen K in the presence of Skau Reipurth.
Playing the piano has always been my dream. My mother emigrated from Ukraine together with a friend, who is a piano teacher. So this may be what sparked my interest. From childhood, I was deeply fascinated by the huge instrument.
Elisabeth Holmegaard Nielsen has always loved performing. She began as a ballet child at the Royal Danish Theatre, and at the age of seven she started playing the piano. The piano was to become a lifelong passion, and already at the age of 16 she was admitted to the Royal Danish Academy of Music, where she graduated with full marks.
While studying for her Master's degree, she participated in international competitions and taught the piano, and thus discipline and proactivity became second nature to her. Subsequently, she studied in Vienna and Verona and has been admitted to the soloist class within new music at Accademia di Pinerolo in Italy.
The then 29-year-old Elisabeth makes a living by playing the piano, primarily classical music, but often combined with modern compositions. She has given concerts in many countries, participated in film projects, released two CDs and has won numerous competitions and awards. She considers it a privilege to be working full-time with her passion.
But she never stops refining her skills – and constantly prioritises giving something back to society.
Elisabeth is a co-founder of the association "Nielsen Saloner" (the Nielsen Salons). This year, the association has had particular focus on supporting Ukrainian musicians. At the same time, she has a burning ambition to stimulate interest in classical music among the younger generations.
When Elisabeth performs before an audience, it is not to impress the audience, but to convey the unique message of the composer to each individual listener. Music always has a special story to tell, and Elisabeth is committed to communicating that story to the audience. She is inspired by meeting people with a passion, and she is energised by communicating – through music – with people from other countries.
My education never stops, for musicians keep learning all their lives. It is part of our DNA. At the same time, we communicate universally – and, to me, this is the greatest magic of music.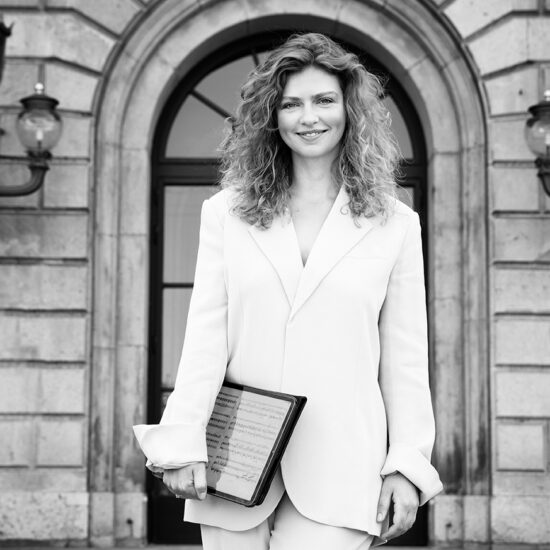 Molly Balsby (2021)
In 2021, Molly Balsby has been given Skau Reipurth's Next Generation Award (DKK 25,000). The award is an acknowledgement of her talent, dedicated work and passion for writing.
On Friday 26 November 2021, Molly was presented with the Next Generation Award on the Danish castle "Dragsholm Slot", where everyone at Skau Reipurth participated.
In 2011, Molly Balsby dropped out of high school to pursue her biggest dream.  At the age of 18 she became one of the youngest ever to be admitted to the Danish Academy of Creative Writing. She has since studied history at the University of Copenhagen to achieve a more classic education.
As a writer the then 28-year old Molly has excelled several times and won awards and grants such as the Danish Arts Foundation's working grant (2019, 2020 and 2021), Bodil og Jørgen Munch-Christensen's Debutantpris (2019), Jyllands-Posten's Fonds Coronalegat (2020) and Det Danske Akademi's Klaus Rifbjerg's Debutantpris for Lyrik (2020).
In 2018, Molly published "Ponyprivilegiet" (the Pony Privilege) – a collection of poems about love, death and small horses. The book is a story about being a young woman in a complex world. In the book Molly deals particularly with the concept of privileges while the pony's cultural meaning is applied as a metaphor throughout the book.
Currently, Molly is working on a historical novel and she is soon to go on a research tour to the US to finish the book. Meanwhile she teaches at folk high schools and upper secondary schools where she gets energised from inspiring ambitious young people to choose a creative profession.
As a writer Molly seeks not to isolate herself, and she gets professionally inspired by observing and interacting with the world around her.
Molly's level of ambition manifests itself by a high degree of persistence. You cannot achieve something if you only give it one chance. It requires dedication and hard work to strengthen one's professional knowledge and achieve results. For this reason, Molly often doubts what she is doing. A doubt that works in her favour. To Molly, complacency is the exact opposite of ambition. And Molly never stops sharpening her own pencil:
I am very result-oriented, and at the same time I believe that it is important to be aware of – and accept – that often it is only a little part of one's hard work that results in an actual product. As for example a published book. But all the other work helps improving my knowledge and skills and thus it is never wasted.
After the Next Generation Award:
In 2021, Molly became the new literary reviewer at Ekstra Bladet – a title she achieved by winning a competition organised by the newspaper in order to find their next literary reviewer.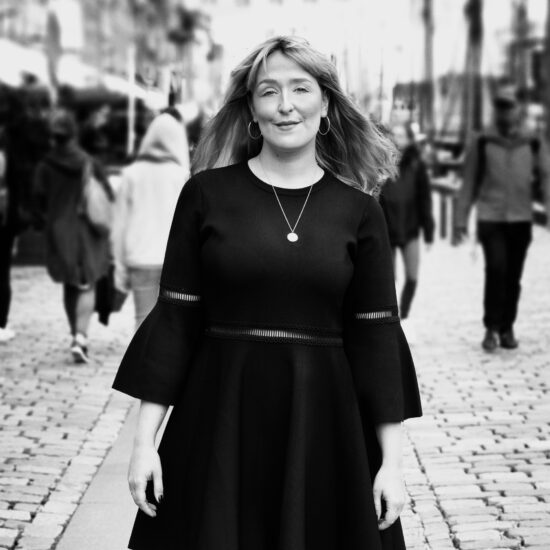 William Bille Meyling (2020)
In 2020, William Bille Meyling has been given Skau Reipurth's Next Generation Award (DKK 25,000) as an acknowledgement of his talent, hard work and passion for programming.
On Friday 27 November 2020 William was presented with the Next Generation Award through Teams, where everyone at Skau Reipurth participated.
Programming is like LEGO bricks – I innovate and use my creativity.
In the spring of 2020, the then 19-year old William Bille Meyling won the title as "Young Scientist of the Year 2020 – Senior" ahead of hundreds of other young people. Young Scientists, which is Denmark's largest science talent competition, is organised by Astra – the Danish National Centre for Learning in Science, Technology and Health – and is under the patronage of HRH Prince Joachim. After William won the competition, numerous scientific articles and radio interviews, a prize of DKK 25,000 and the participation in two international science competitions followed.
William has developed an algorithm which can identify all parts of an image automatically and without any user input. The algorithm's building blocks are, among other things, central to self-driving cars, but what is particularly revolutionary is William's innovative method. He segmented 6,900 images and wrote the code from scratch.
From childhood, William knew what the word programming meant, and he started developing websites from an early age. It aroused a curiosity in him, and he had to pursue it. However, William's professional development is a result of diligence and hard work. For a period of time, he attended high school, worked part-time and "practised" each night. A busy and very educational period.
The young scientist often participates in computer science camps in Denmark and abroad, and he solves online computer science assignments where he is motivated by transparent results and by working under time pressure.
And only the best results are good enough.
In the summer of 2020, William began studying computer science at the University of Copenhagen. He is passionate about the professional journey and about strengthening and refining his skills, but at the same time he thinks about how his future will turn out. Time will tell whether it will be within the field of research or entrepreneurship, but one thing is clear: William's dedication pays off as his long-time dream is becoming a reality.
I smile when I wake up in the morning, because I am looking forward to a life where I combine education and work with my biggest hobby.
After the Next Generation Award:
William's skills and dedication in Computer Science were recognised in 2021 at the European Science Championships (EUCYS), where he won the PRACE-Award for "Best Computational Project". As part of the award, William got to travel to Kajaani in Finland to experience LUMI – one of the world's best supercomputers.
In 2022, William and his team won 2nd place at the Danish Championship in AI (Artificial Intelligence). In the same year, William traveled to Indonesia as a leader for Danish high school students participating in the World Programming Championship (International Olympiad in Informatics).
Further, William has achieved impressive results in 2023. In early 2023, he participated in a university-level research competition in Computational Geometry, where he, together with his supervisors, brought home the victory to the University of Copenhagen – the first ever. Consequently, William are travelling to Texas in June 2023 to present the results at the International Symposium on Computational Geometry.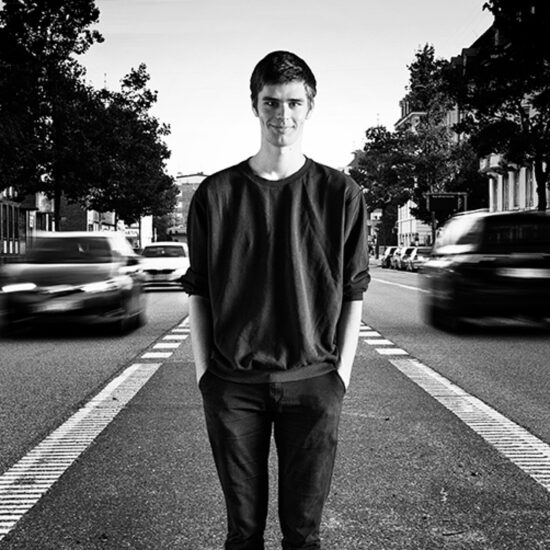 Jonas Harboe (2019)
In 2019, the young and ambitious chef Jonas Harboe was given the Next Generation Award (DKK 25,000) as an acknowledgement of his talent, hard work and passion for his job.
On Friday 6 December 2019 Jonas was presented with the Next Generation Award at the office of Skau Reipurth in the presence of the entire firm.
I always pay attention to detail – and that goes for every dish.
To Jonas Harboe, everything is about food. Recently, the young native of the Danish island of Bornholm qualified as a chef from Restaurant Palægade, and he now works as a chef in Copenhagen. Curiosity and the will to hone his skills characterises Jonas who is often experimenting in the kitchen of his workplace after hours. Being a chef is a constant journey, and Jonas is passionate about all aspects of the restaurant business – from washing and cooking the vegetables to watching the guests enjoy their meal.
Classic craftsmanship is important to Jonas, who is also particularly motivated by combining various cuisines in order to create the very best taste experience. As a part of his professional development, he sold everything he owned, left his friends behind and went to Paris in 2018 where he worked at the Michelin restaurants Copenhague and Neige d'été. A tough and very educational experience.
Through the years, Jonas distinguished himself several times, and he won awards such as Oluf Brønnums Fonds Talentpris (2019) and a gold medal from the Copenhagen Hospitality College (2018).
But he is not done refining his skills.
Jonas always carries a notebook with him in which he makes notes when he comes across something that inspires him. It may be a text, a colour, a dish or something that catches his eye when he strolls through the city.
The young chef dreams of opening his own restaurant, and when the time comes he can find inspiration in his notebook. But first, he wants to go abroad again. Having a determined mind, Jonas makes things happen, and thus a position with a two-star Michelin restaurant is awaiting him in New York.
Ingredients, taste, atmosphere and aesthetics must always form a synthesis, and Jonas look forward to another adventure.
After the Next Generation Award:
Due to the Covid-19 situation Jonas' position with the restaurant in New York was postponed.
Instead, Jonas began working at the two-star Restaurant Alchemist in Copenhagen. At the end of July 2020, he started working at the three-star Restaurant Geranium in Copenhagen.
Jonas' high professional level and innovative approach to oysters resulted in his "signature oyster", Pink Oyster, winning the award for the most innovative oyster at the Danish Oyster Festival in 2021.
In 2022, Jonas founded the company PinkOyster, where he innovatively creates unique (pink) oysters for pop-up events and private parties. Jonas is greatly inspired by nature as reflected in his work with PinkOyster, which, in addition to being innovative, is also sustainable. For instance, the shells from the oysters are recycled to create unique serving options for oysters in the future.