16.05.22
Who are the typical parties to a construction and engineering project? What are the most popular methods of procurement? And how are the projects typically financed? Attorney and partner Peter Dianati, attorney and senior associate Robert M. Busk go into details about these and other legal questions in Legal 500's Comparative Guide within Construction.
We are delighted to announce that Legal 500 once again has identified Skau Reipurth as one of the leading experts within construction in Denmark.
In Legal 500's Comparative Guide 2022, Peter Dianati and Robert M. Busk and provide a thorough overview of construction with regard to Denmark.
Read the guide to construction here.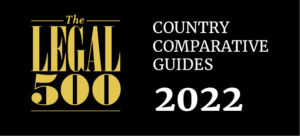 Legal 500's guides are comparative descriptions of legislation in various jurisdictions written by people whom Legal 500 has identified as legal experts in each jurisdiction and legal area.
Legal 500 is a London-based firm that ranks law firms in most of the world. They recommend law firms in more than 100 countries and have done so for more than 20 years. The recommendations are made on the basis of interviews with law firms and inquiries to clients.