03.06.21
Skau Reipurth has contributed to Chambers Global Practice Guides – definitive global law guides offering comparative analysis from top-ranked lawyers.
Read the guide to Real Estate here.
The guide is, among other, written by Attorney and Partner Peter Dianati and Senior Associate Robert M. Busk who work in the fields of real estate and construction.
In the guide, they provide the latest legal information on the impact of disruptive technologies, main market trends and deals, proposals for reform, sale and purchase, real estate finance, planning and zoning, investment vehicles, commercial leases, construction and tax.
We are very proud that Chambers once again has identified Skau Reipurth as one of the leading experts within real estate law in Denmark.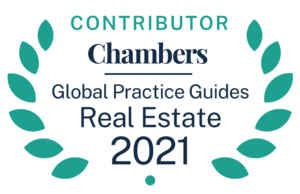 Chambers Global Practice Guides provide in-house counsel with expert legal commentary on the main practice areas in key jurisdictions around the world.
The guides focus on the practical legal issues affecting business and enable the reader to compare legislation and procedure across a range of key jurisdictions.
For every guide Chambers selects "Contributing Editors" who are ranked in the relevant Chambers Guides as the best within their field.